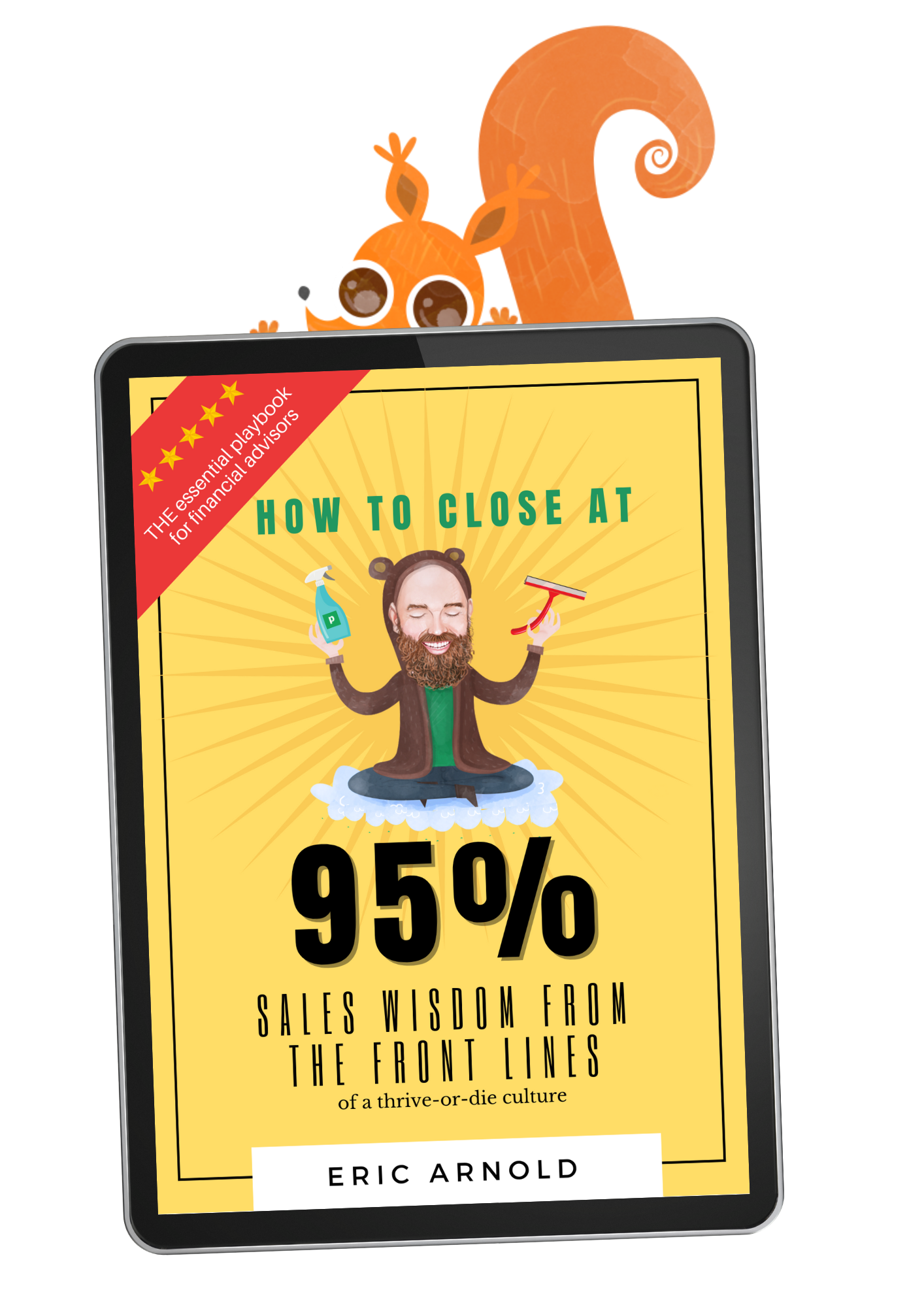 Free eBook
How to Close at 95%: Sales Wisdom from the Front Lines
While in college, Eric Arnold knocked on doors to sell residential window cleaning services. Through testing and refining, he earned a legendary 95% close rate—and the best education of his life.
What's Inside?
7 steps you must nail to achieve a >95% close rate in sales
Why you definitely don't want 100% closing ratios
2 bonus steps!
Author Eric Arnold

is the CEO and co-founder of Planswell, the Toronto-based startup delivering free financial plans to users in three minutes. Eric previously worked as a financial advisor at two of Canada's top firms, developed about a dozen startups, and created more than $400 million of value through digital marketing. Eric is a frequent public speaker and has a large platform on social media. Over 70 million people read his LinkedIn posts last year.
Eric regularly shares his sales formula to inspire Planswell volunteers who are on the front lines of making quality financial advice accessible to all.
Reviews for How to Close at 95%

Eric has quite a brain and a very intuitive way of relating to people! Bravo!

Loved this book. It's easy to read yet super helpful. I am actually reading it again to let it all sink in. Thank you so much!!

This was so familiar. I have used these principles for years. This is exactly what I try to teach young salespeople.

Great book for any age. Who can forget, "Everything in life is sales"?

I thought it was very informative and clearly laid out steps to achieving a successful sales cycle. I could really relate and took away some helpful tips. Overall it was a great read.

The book was filled with energy and real life examples. An easy read with some good nuggets and ideas for using time effectively by qualifying prospects based upon establishing rapport. So interesting! Thank you for sharing this sales method.

Planswell continues to offer useful, practical advice in easy-to-digest servings! This process has applications for a multitude of services.

This book provided steps people like me can adapt in our effort to provide services in the cold market...I am studying these steps to help me overcome some of my sales challenges. I find this book valuable.

The book was a good, short read. Some interesting perspective and good suggestions for establishing rapport. I've used several of the techniques that do work.

The story is very concise. The author made good points for marketing /selling strategies.
Your Opportunities are Waiting
Find out why Planswell is the most-requested platform among finance professionals in North America.
10+ exclusive prospective households per month, guaranteed
World-class training
Beloved financial planning software
Highly complimented support