Why You'll Love Our Software
Meet the $10 million software that's modernizing the advisor-client experience.
Instant Client Onboarding
Get right to work for your clients. By the time you meet them, they've already completed discovery and received a financial plan. When they onboard with you, all you need to do is what you do best.
Use With All of Your Clients
Whether or not you met them through Planswell, your clients are able to use your customized link for discovery and plan creation. You'll save time AND impress them with our highly complimented user experience.
Export Your Client Data
We're not the jealous type. We know there are times when our partners need to use different software solutions. We've made that easy with simple CSV exports. Your clients, your business, your way.
Your New Favorite FinTech
Everything you need. Nothing more, nothing less.
Insurance

Mortgage

Debt

Investments

Cashflow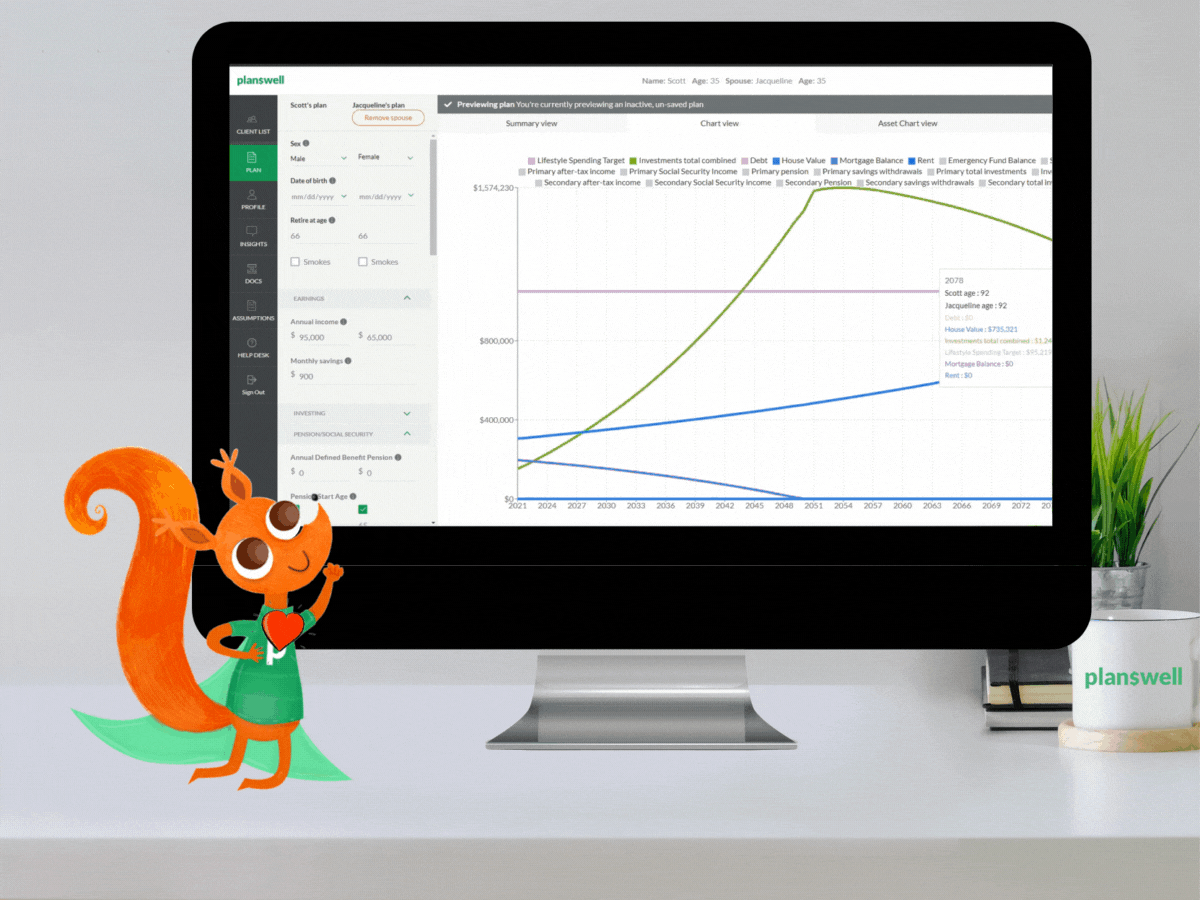 Built by Advisors, For Advisors
Your Software View
CRM
Summary
Charts
Assets
Cashflow
Advisor HQ
Client View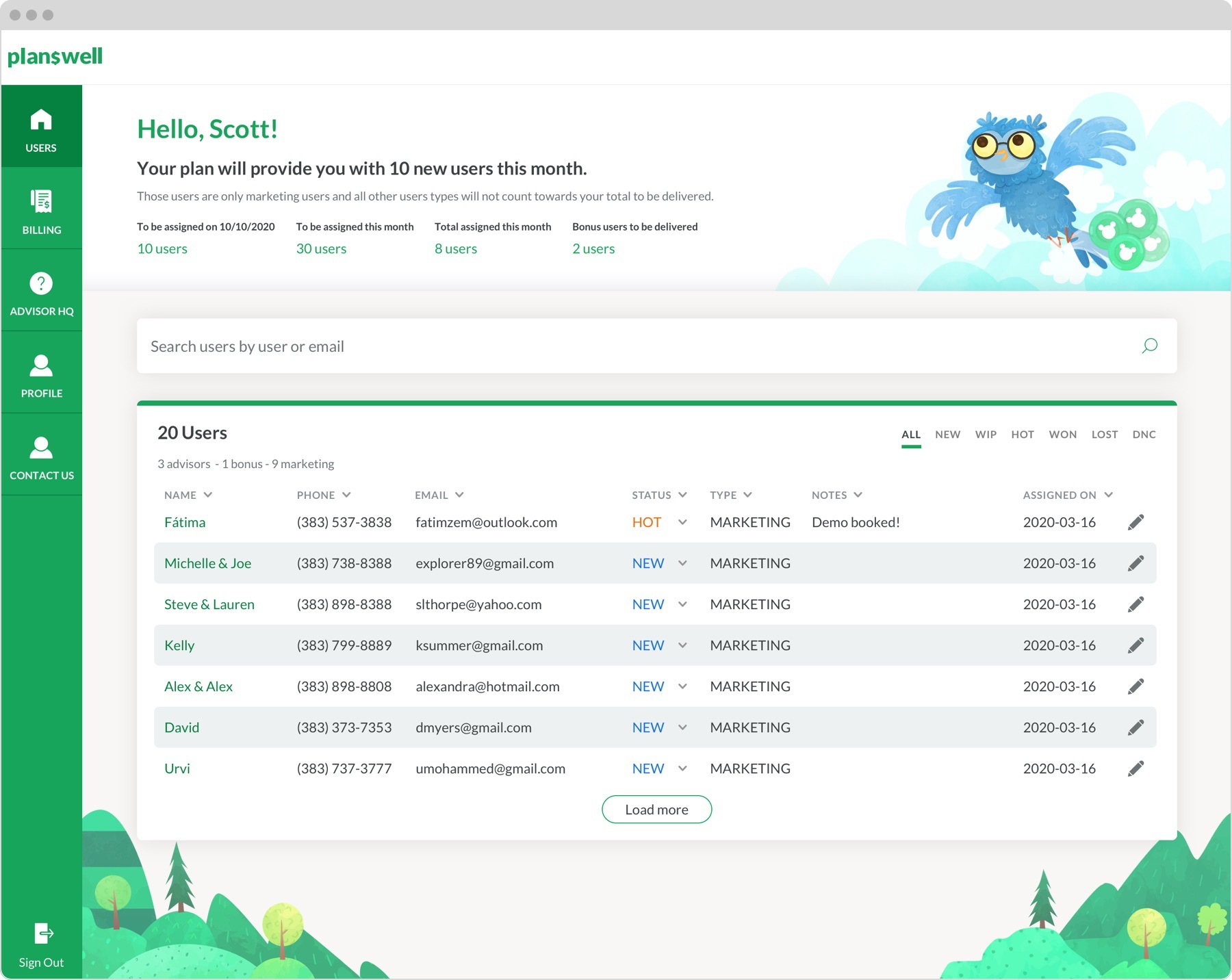 Your Households in One Place
Our CRM is where you'll see your list of households and bonus households. You'll have access to their contact information and financial plans. You can add notes to your prospects or export them into your own CRM if you'd like.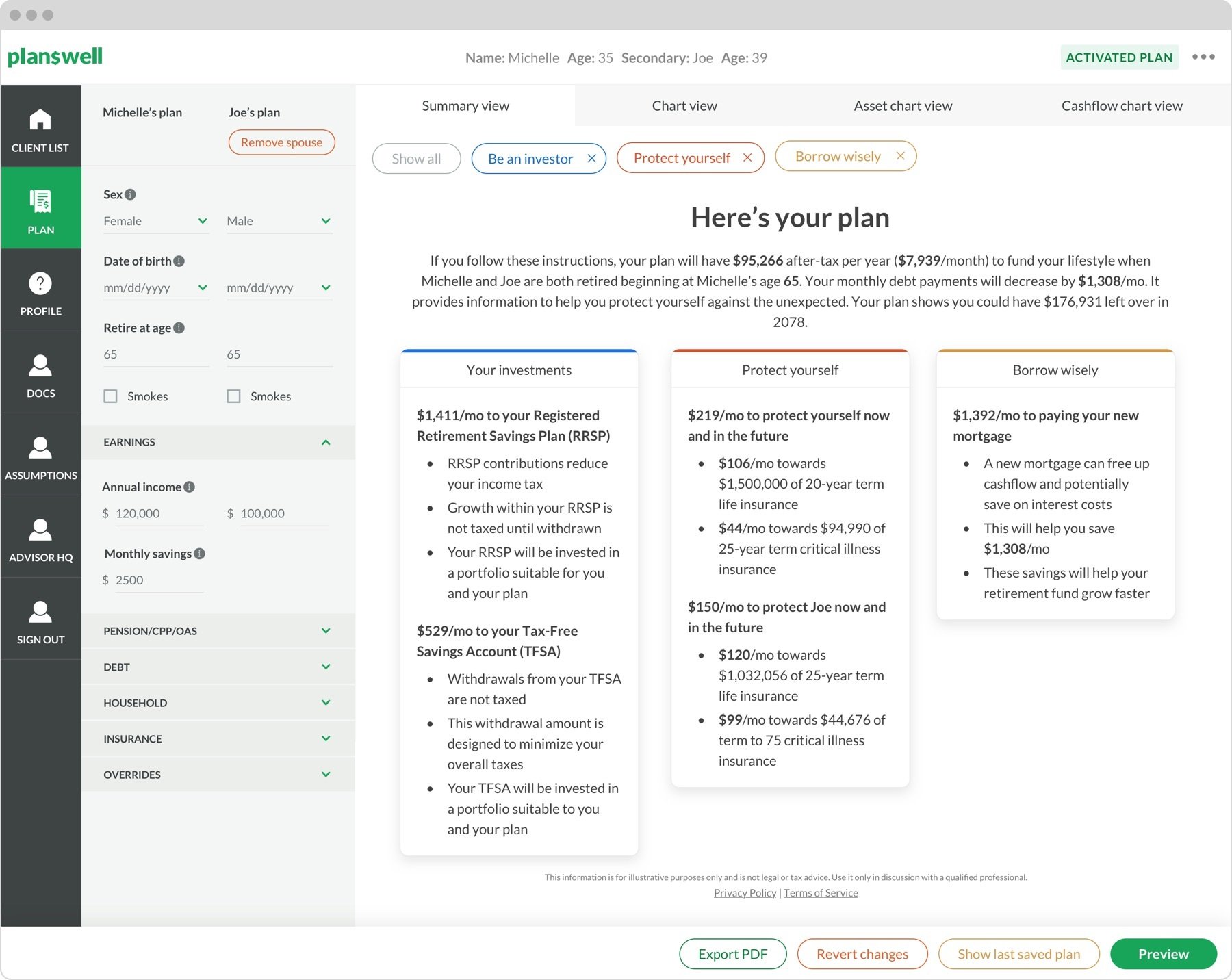 Specific, Actionable Advice
Go to the summary view to deliver exactly what your clients need from you: guidance. The details are laid out with key points to share, with a focus on what they should do today. Good planning made easy.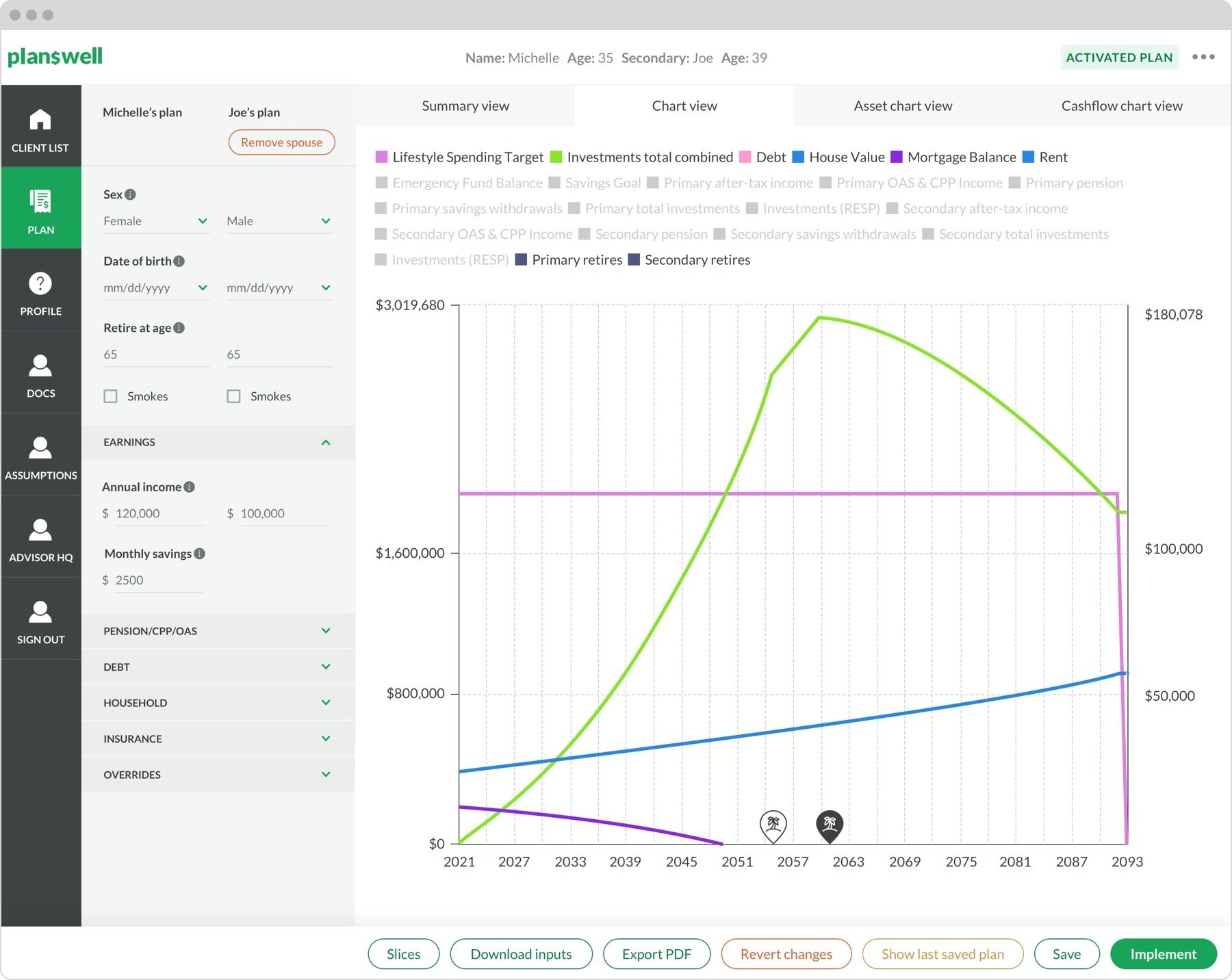 Visualization
While the summary view focuses on actionable advice for today, the chart views show the future. Use your charts tools to demonstrate your clients' financial landscape over the years to come. Charts —along with the corresponding summary view— update in real time as levers are adjusted on the left. Easily simplify the view by hiding lines at any time.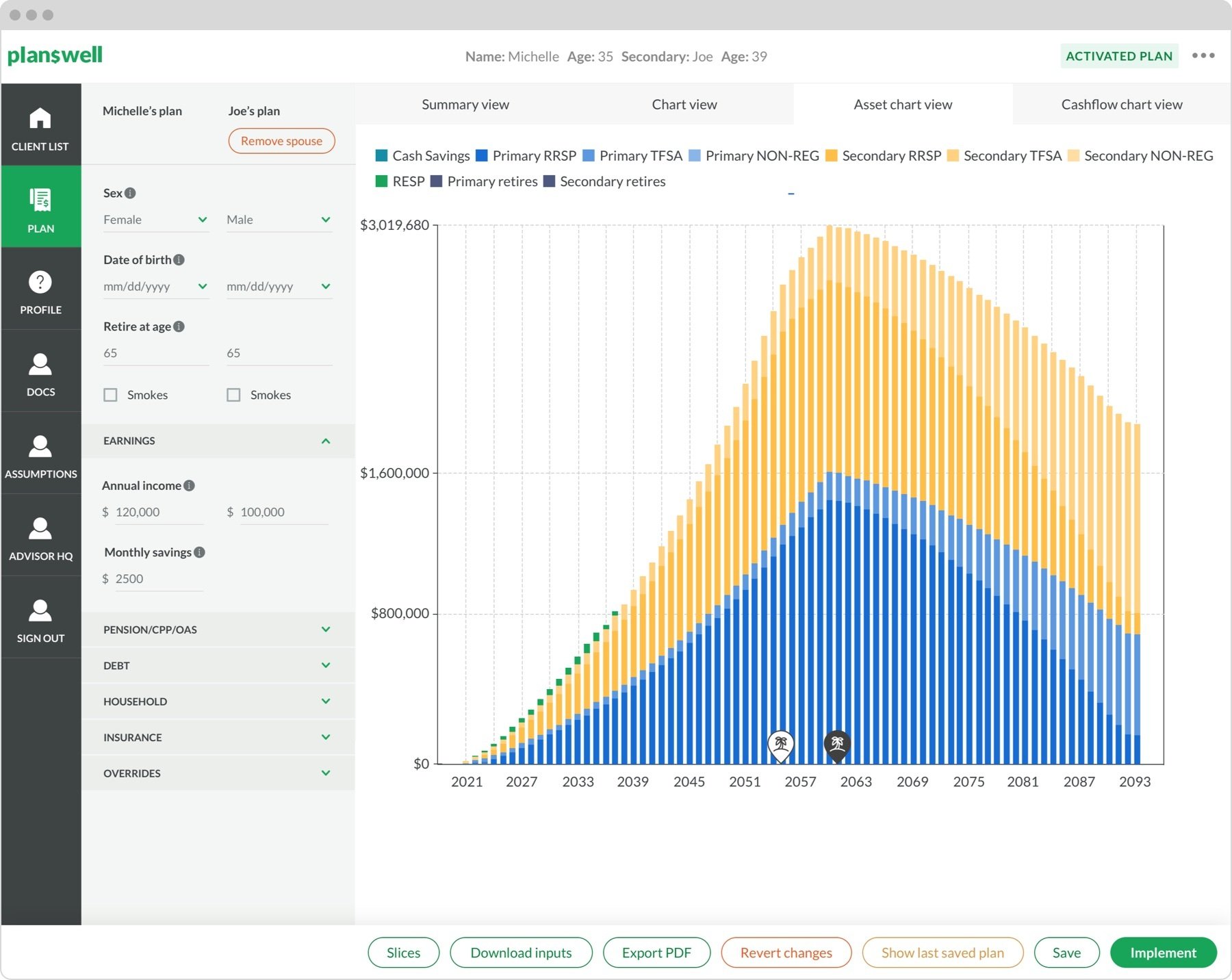 Fan Favorite
Everyone loves to see how their assets will grow over time. When they're happy, we're happy. Give your clients a snapshot of their account balances at specific points of time in the future. You'll notice them leaning in, eyes wide, for a closer look.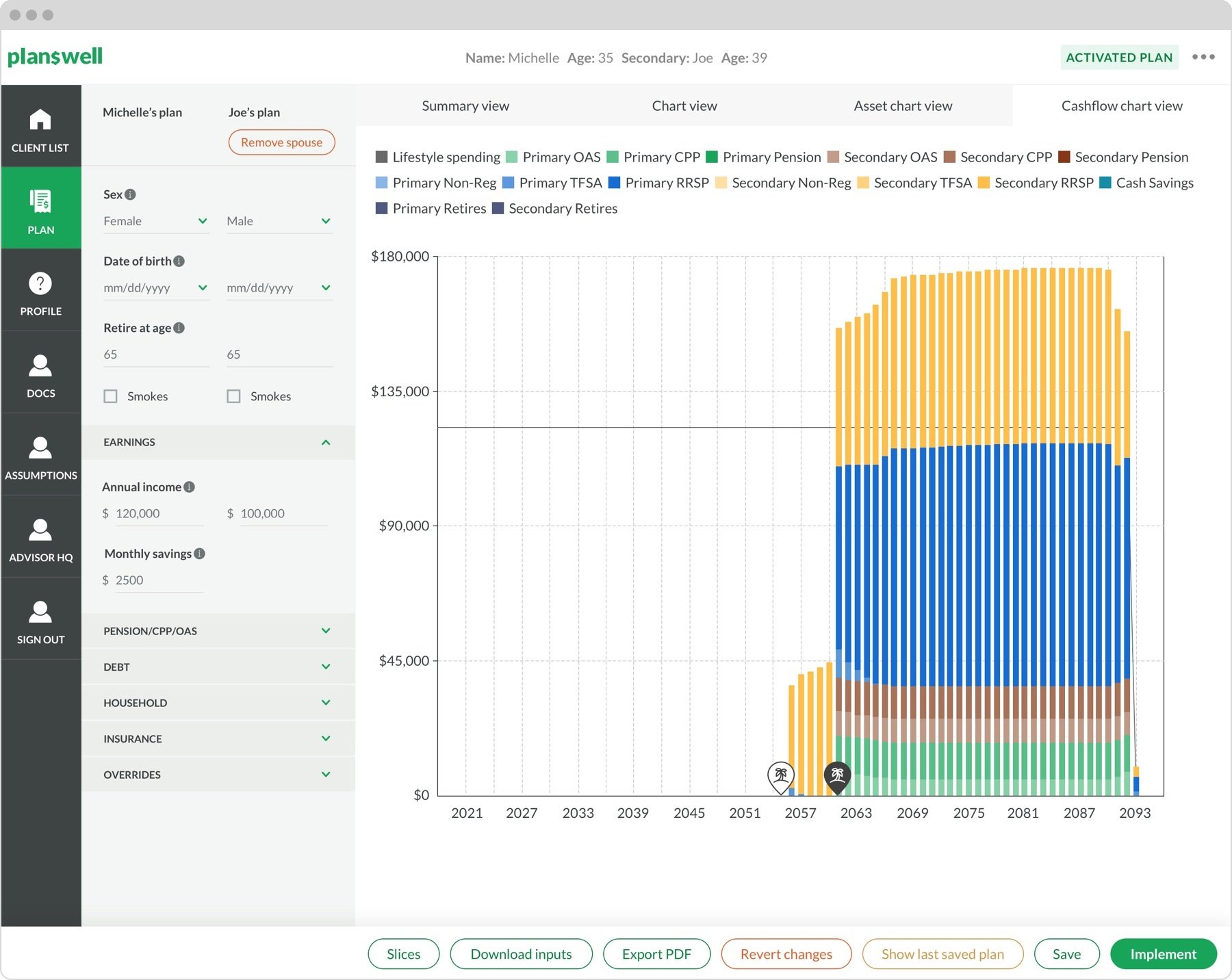 The Crystal Ball
Demonstrate where retirement dollars will come from and how they will draw down over time. We factor in taxes on their 401k, social security, and other nuances that need to be considered. Run various scenarios, such as delaying social security payments, and see the outlook adjust in real time.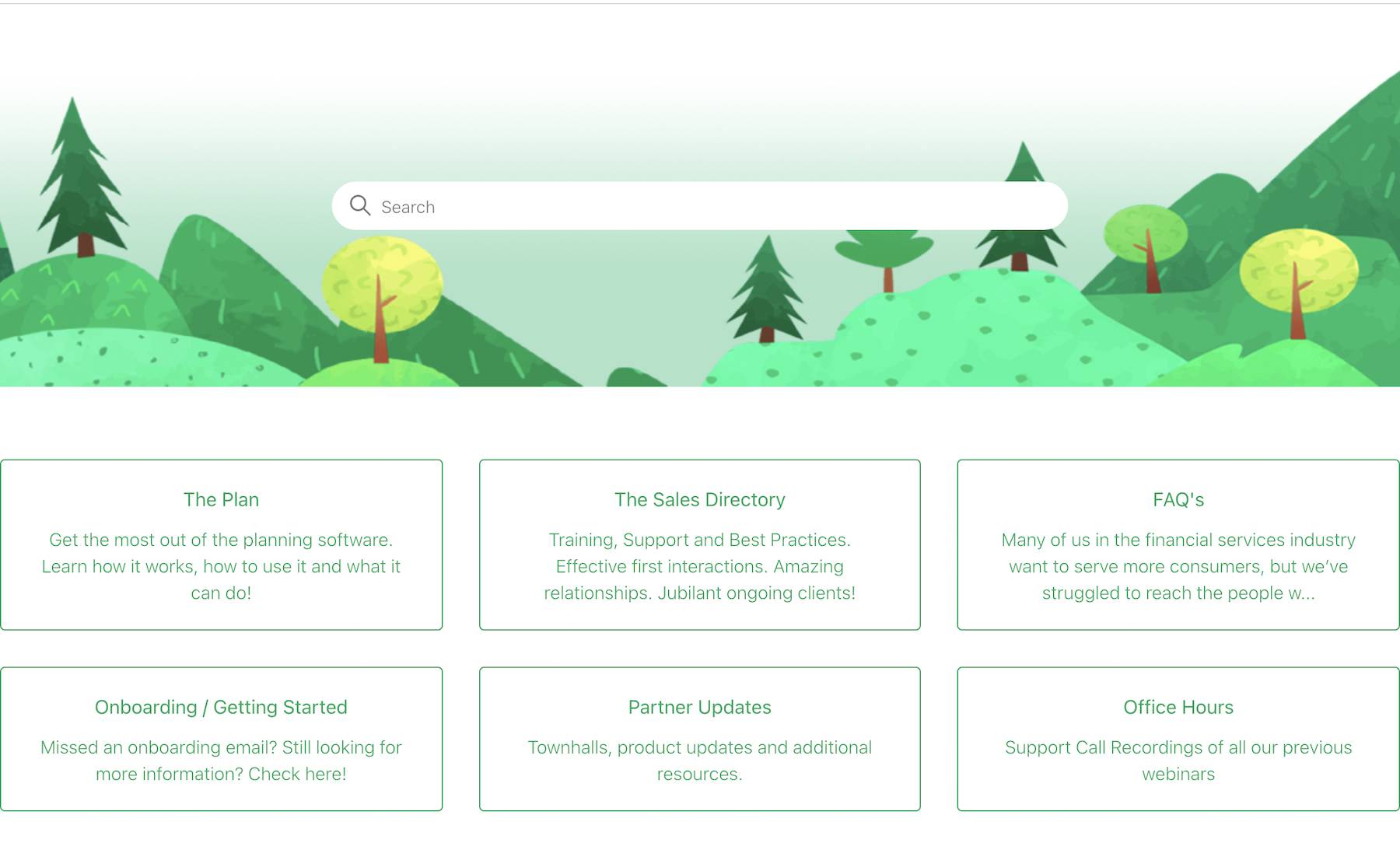 $15M of Intellectual Property at Your Fingertips
Find a wealth of training content in our AdvisorHQ, from time-stamped copies of every Office Hours session to FAQs, software hacks, call scripts, and more. You are always just a click away from what you need.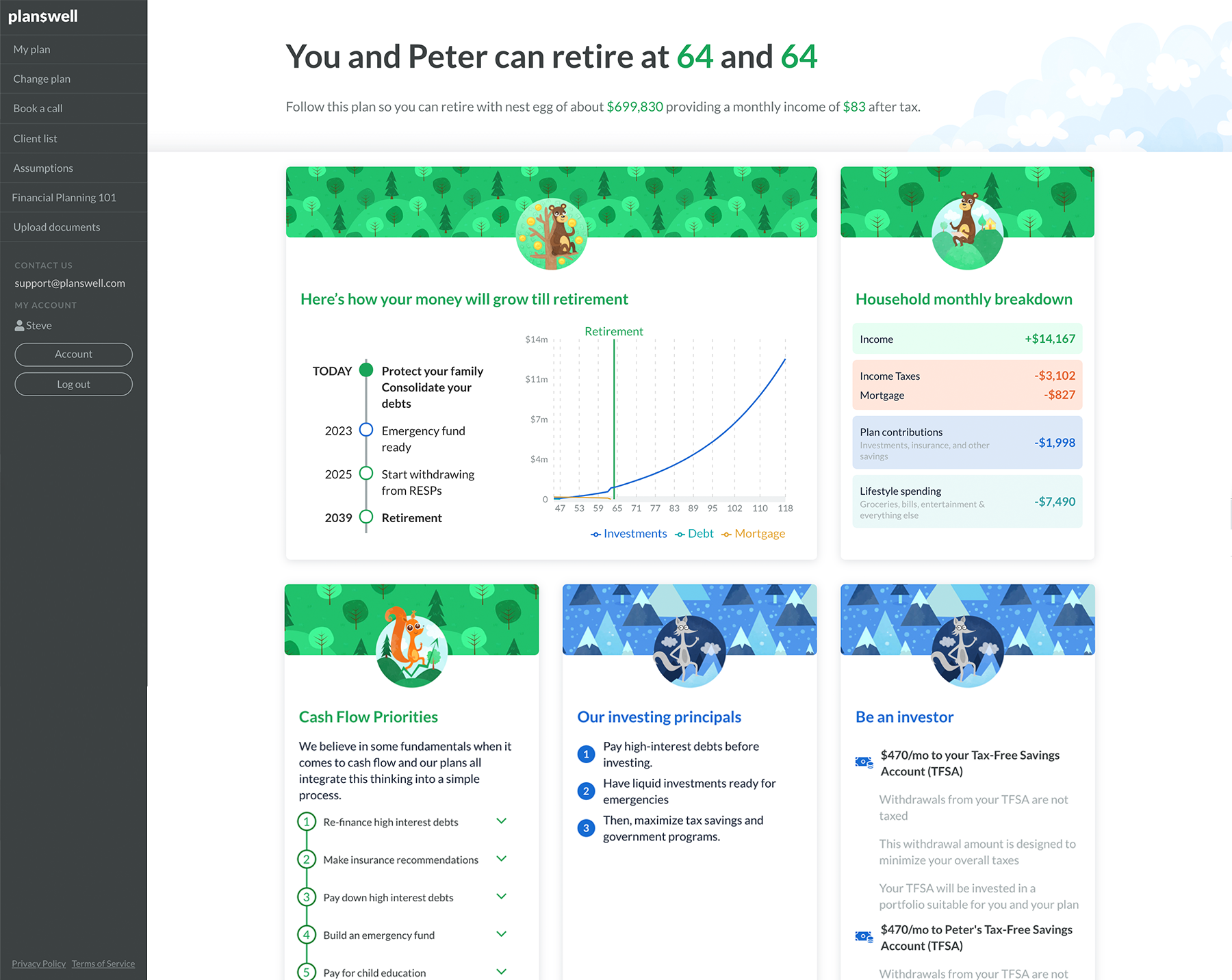 Digestible Delivery
We've carefully curated just the right content for your prospective clients so they can gain valuable insight into their finances without becoming overwhelmed. We've designed their experience to be as digestible as a children's storybook.
Frequently Asked Questions
Does Planswell's software replace the need for financial advisors?

No! Financial planners are crucial to the mission of Planswell. To best serve our households, we need trustworthy partners to help clients reach their financial goals.

How are financial plans created?

We developed and perfected our proprietary software using established financial planning principles. Like you, our team is deeply rooted in financial services with credentials including CFA, CA, CPA, PFP, CFP, CIM, LLQP. Team members have degrees in economics, mathematics, computer science, finance, engineering, communications, law, and business from top universities across the globe. Many of us also have experience in traditional financial institutions such as CIBC Wood Gundy, London Life, RBC Dominion Securities, TD Wealth and Investors Group.

Can I still use the software when my firm is at capacity?

By popular request, Planswell partners have the option to switch to a "platform only" structure at any time and for any reason. This flexibility allows Planswell to support you as your business ebbs and flows. When growth is a priority again, it's a simple flip of a switch on our end.
Your Opportunities are Waiting
At least 10 exclusive prospective households per month
World-class sales training
Our beloved financial planning software
Executive peer groups